News
Van Damme vs Dolph Lundgren în "Universal Soldier 3″
De dragul vremurilor bune trebuie să vedeţi acest trailer
. Pentru că, într-un fel sau altul, filmele de genul acesta cu Jean-Claude Van Damme, Bruce Willis sau Arnold Schwarzenegger ne-au marcat, unora dintre noi, copilăria. Sigur vă mai aduceţi aminte de "Universal Soldier", producţie apărută în 1992, în care JCVD joacă rolul soldatului american, ucis în Vietnam, Luc Devereaux, care este transformat de o echipă de oameni de ştiinţă în "super-soldat" şi care se luptă cu Dolph Lundgren (Andrew Scott) la sfârşit. În 1999 apărea continuarea: "Universal Soldier 2: The Return", cu acelaşi Van Damme în rolul principal. Pe 2 februarie 2010 va fi lansată, direct pe DVD, partea a treia a filmului: "Universal Soldier 3: The Regeneration", unde Luc Devereaux este readus la viaţă şi va trebui să lupte împotriva a doi super-soldaţi îmbunătăţiţi (Andrei Arlovski şi Dolph Lundgren). Chiar dacă scenariul nu prea are sens şi e, oarecum, previzibil, de când l-am urmărit pe Van Damme în "JCVD" parcă mi-e mai simpatic. În orice caz, v-am pus trailerul mai jos dacă sunteţi interesaţi de un "classic action movie"
. Vizionare plăcută!
Vizionati trailer:
November 11, 2009
Mabrouk El Mechri's JCVD is one of the best films Jean-Claude Van Damme has starred in for some years, equal to his more recent efforts in Wake of Death and Replicant. Van Damme really puts on his acting cap in all three films, though out of the three, Replicant is still the best, followed by JCVD and then Wake of Death. JCVD, however, is the most inventive of the trio; it is also the first film where Van Damme gets real with his audience.

JCVD is a film about Jean-Claude Van Damme's life, his tax issues, his child-custody battles, his past bout with drug addiction, and the current state of his film career. The viewer is shown fragments of his most embarrassing moments with no manipulation. In fact, viewers will likely be embarrassed while watching some of these scenes, whether or not they had previous knowledge of them.

Since Van Damme had a hand in the creative process, it turns out he is a braver actor and person than most of his films have led the public at large to believe. Nothing is left off the table, including idiotic past utterances he made on television. Never before has an actor provided such insight into the person behind his own action persona.

The framework for JCVD consists of Van Damme's needing a quick influx of cash and visiting a bank that is subsequently held up. Most of JCVD happens during the robbery, as what happens in the bank is brought to the attention of the local authorities in Brussels, where Van Damme is a sort of folk hero. Belgians admire and look up to him even though the majority of his films these days are straight-to-video releases. He is theirs, one of them; a countryman who made it all the way to Hollywood.

Throughout JCVD, we're offered fragments of what occurs in the bank in a nonlinear narrative form; answers, for instance, are provided before we even know which questions to ask. Who is robbing the bank is the subject of much humor, as arguments laced with levity break out about the bank situation and how to get out of it. (One setting in particular will make adult-film aficionados smile.)

Both in and outside the bank, Van Damme often has the chance to behave like an action star in the real world, a place where the hero is neither invincible nor always quicker and smarter than his opponent. In a few scenes, Van Damme sees what he would do if the robbery were taking place in one of his action films, while the viewer then witnesses what he chooses to do.


Though that is one of the best sequences in JCVD, its most memorable — and bravest — moment is a six-minute scene where Van Damme breaks the fourth wall, looking at and talking directly to the viewer (much as George Lazenby does briefly in On Her Majesty's Secret Service). That's when Van Damme lets much of his internal pain come out in the open. Viewers that pay close attention to this monologue will notice something later referenced from it during the remainder of the film.

In sum, El Mechri's JCVD is fearless in its depiction of Jean-Claude Van Damme both in front of and behind the camera. Chances are the viewer will most likely (even if involuntarily) grow to respect Van Damme — or at least understand him a few degrees better after watching this film.

November 04, 2009

When the Netflix Web site recommended JCVD, a 2008 project wherein action star Jean Claude Van Damme plays himself in a so-called "comic action" film, I chuckled. Netflix must be nuts, but I added it anyway, mostly with the intent of devoting a column to how poor I was certain it would be. But, as I am often wont to do, I prematurely judged the proverbial book by its cover--er, synopsis--and wound up pleasantly surprised.

First, I didn't know this until after my viewing, but JCVD was a hit with critics. Time magazine even suggested Van Damme deserved an Oscar. Whaaat?! I don't know if I'd go that far, but it's definitely the man's most mature film, if that's saying anything.

Embroiled in a child custody battle, a penniless Van Damme returns home to Brussels, Belgium. Upon his return, he's taken hostage during a bungled robbery and mistaken by the police for the culprit.

Let me tell you, there may be awkwardly funny moments, but this ain't no comedy. If it's a ridiculous quasi-biographical action comedy you want, locate Bruce Campbell's My Name is Bruce, released earlier this year on DVD. Because JCVD is dark in both mood and lighting, this feels a little more like 2005's Unleashed in which martial artist Jet Li flirted with dramatic action.

I get why critics would enjoy this film. When Jim Carrey branched out from comedy, the results were spectacular. Similarly, Van Damme blazes a new trail here, and a few of his scenes--especially a six-minute monologue when he's alone with the camera, seemingly baring his real life soul--are drenched in emotion. Good for him, and good for the movie. While it doesn't make him Paul Newman or Johnny Depp, Van Damme is perhaps more than just the Muscles from Brussels.

I should probably mention that the dialogue is about 90 percent in French--Van Damme's native tongue. An English soundtrack can be activated, but the crummy voiceovers are distracting. I managed to enjoy it with subtitles alone. Besides, I speak un peu de Francais.

Though he hadn't released a major Hollywood movie in a decade, and though his acting during his heyday was less than stellar, Van Damme takes a bold, very likeable step forward in JCVD. Much as I hate to admit it, you were right, Netflix. This time. But if I find you pitching me a Steven Seagal romantic comedy, so help me ...

November 03, 2009


ISTIL Group, owned by media magnate Mohammad Zahoor, plans to make three television projects in Ukraine with American actor and director Jean Claude Van Damme. It is reported by the "Daily Investor".

The amount of the transaction has been kept in secret. Jean Claude Van Damme is working with ISTIL group and wants to attract a strategic investor to make three reality shows in the territory of Ukraine. It will be a documentary that will be made along with the artistic scene.

Earlier, Van Damme had plans to make a feature film in Ukraine. According to the plan, it will be the last film about martial arts with his participation. As a part of the picture the making of a reality show about Ukrainian actors casting, as well as a film about the film will be made. In addition, American actor wants to get the money from the ISTIL group of companies to make a film about his preparations for battle with the Olympic boxing champion from Thailand Somlukom Kamsingom. The match scheduled for March next year.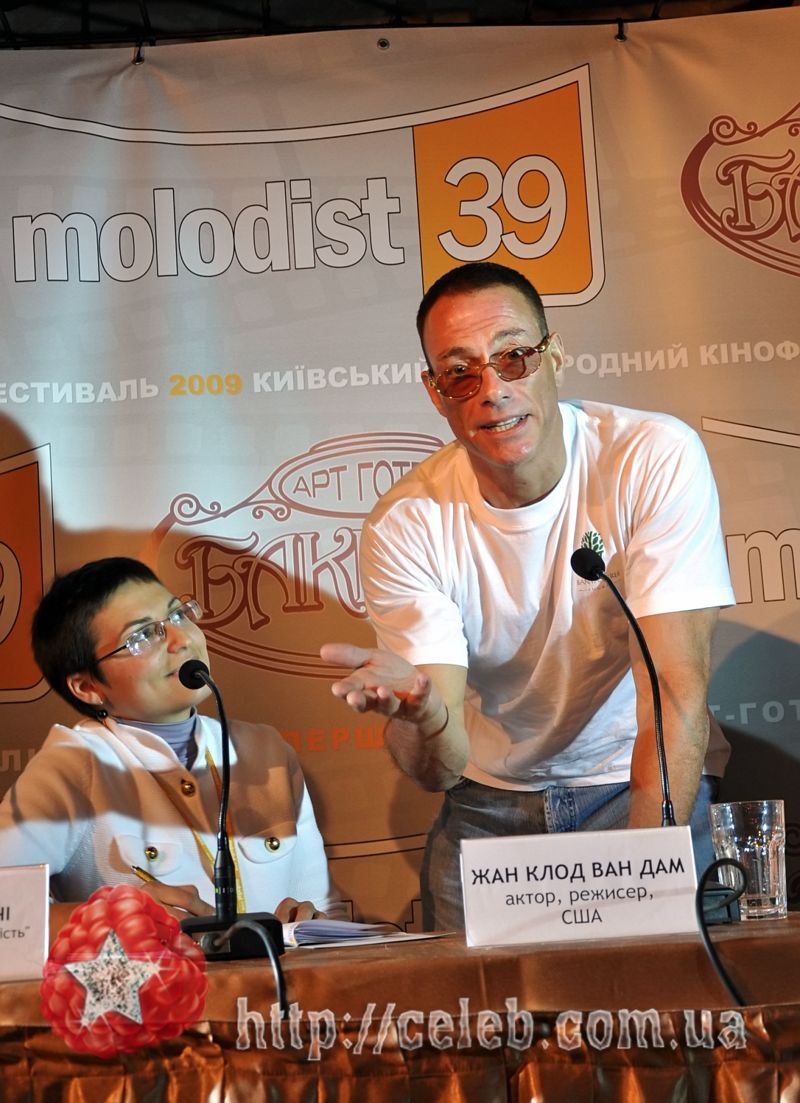 Jean-Claude Van Damme visits Ukraine
November 01, 2009
Belgian-born star of American action movies, Jean Claude Van Damme, came to Ukraine by invitation of the ISTIL Group, owned by Kyiv Post publisher Mohammad Zahoor. During his visit, the actor presented his newest film «J.C.V.D.» at Molodist Film Festival and visited ISTIL Studios on Oct. 30 to discuss the possibility of filming his next movie project in Ukraine.
Site menu
teo_dj69@yahoo.com